Bio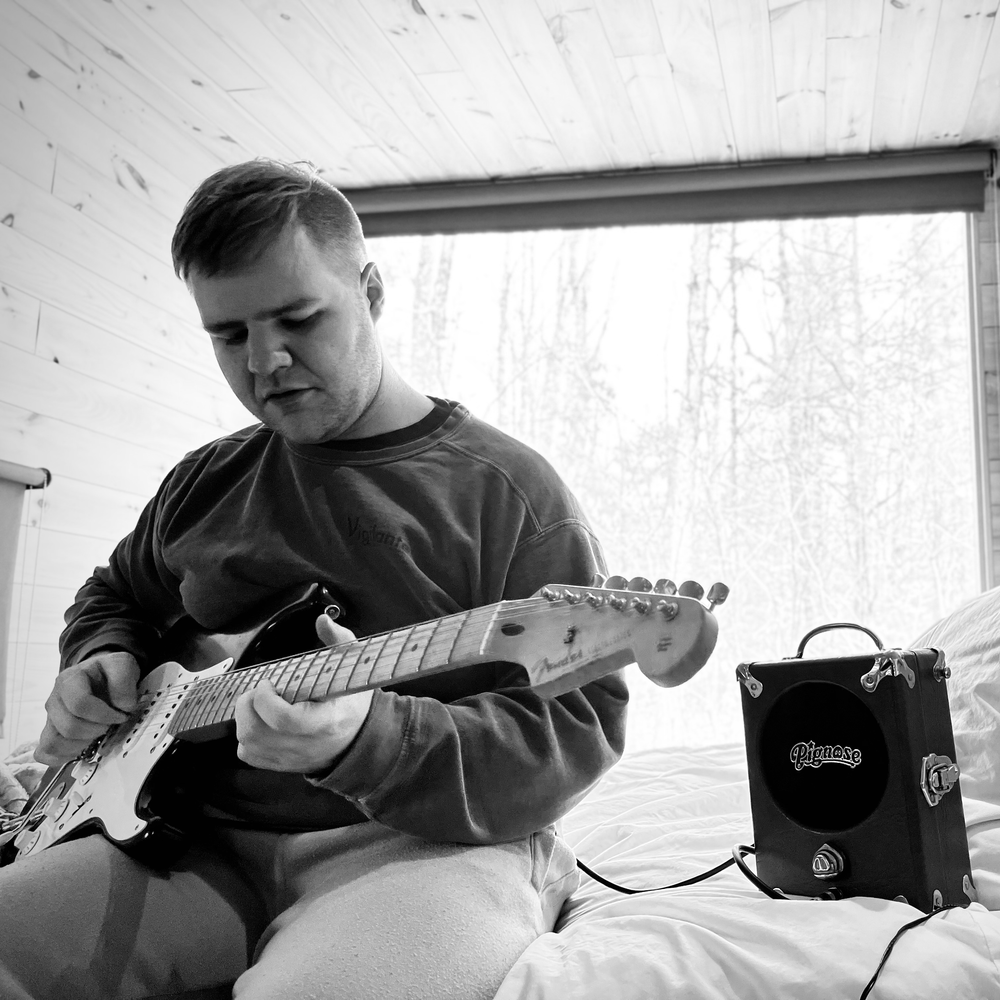 Linc Bradham
Singer, Songwriter, Multi-Instrumentalist
Originally from Savannah, GA and currently residing in the DMV (DC, MD, VA) area, Linc Bradham is a multi-instrumentalist, vocalist, and songwriter. He works to write "honest and rockin' tunes that speak to your heart."
First writing poetry at age 9, Linc has always been intrigued as to how words and music can be tied together to create a completely new experience separate from either individual source. He grew up in Savannah, GA, playing organ in the church along with assorted rock and jazz bands throughout childhood. Eventually picking up the piano at age 12, Linc was initially self-taught, but went on to attend numerous jazz and rock workshops and summer camps until joining the Army in 2009, and eventually becoming an Arabic linguist. Linc originally joined the military because he was afraid he might not be able to make a living as a musician...funnily enough, the military ended up becoming his path to do just that! Linc was accepted into the Army Band as an sound engineer and audio technician in September of 2021, after over 12 years of active duty service. Join Linc on his journey to create and share music with the world that touches the hearts of listeners through shared experience!
In addition to his solo career, Linc is the frontman for the Linc Bradham Band, featuring drummer Max Christman and bassist Darien Converse, along with various guests!
The seeds for the Linc Bradham Band were planted in 2003, when Linc and Max competed in the Mercer Middle School Talent Show of their Savannah home town, upsetting the nine-years-straight victors of the Mercer Middle School Step Dance Team. From there, they played a few more shows throughout the years, most notably the Savannah College of Art and Design's (SCAD) Photography Dept. Prom with Max's late father, tenured SCAD Photography professor and original deep bluesman, Pete Christman. After high school, though, Max went to the Savannah College of Art and Design to study audio engineering, and Linc went on to join the Army, where he continues to serve to this day as a Staff Sergeant.
As can often happen when friends live apart, Linc and Max fell out of touch…but this all changed in 2015, when Linc decided to finally start recording the songs he'd been writing his whole life, many of which were written about experiences he'd had in the Army, in addition to love had, love lost, and love tossed. In these years apart from Max, Linc honed his live performance chops at High Rock Outfitters, amongst many other North Carolina and New York music venues, as a session keyboardist when the Army afforded him time. But Linc was ready to record his own music now. He also knew he needed a quality drummer and that no other person but Max could fit the bill. So after Linc reached out to Max for the first time in nearly a decade, it was like they'd never skipped a beat, and they collaborated on Linc's first musical release, a six-song short album entitled The Darkest of Nights, released on 6 September 2020. Max provided drums with Linc singing and playing nearly every instrument on the record. The record was ok, but it was missing something. Linc was no bass or guitar player and hardly an adequate singer, so he started musical training two hours or more every day on his own in addition to studying weekly with one of the most revered classical tenors of all time, Mr. George Shirley, to vocally prepare for what was to come.
Linc found his singing voice after over a year of training with Mr. Shirley, and then, after Max brought in another successful Savannah musician, guitarist for Whiskey and Wine, Darien Converse, to play bass, the band was ready.
Max is one of the most successful gigging drummers in the Savannah music scene, in addition to building premier drum sets at the Gretsch Drum Factory for some of the most revered drummers in the world. Darien's group, Whiskey and Wine, are one of the most prolific touring bands out of the Savannah scene.
While continuing to serve in the Army, Linc still makes time to write and record music, dedicating all of his free time to sharing his music with the world. His band is hot off the trails of recording their first full length-album, entitled Learning, to be released in May of 2022.